Anti-Age Complete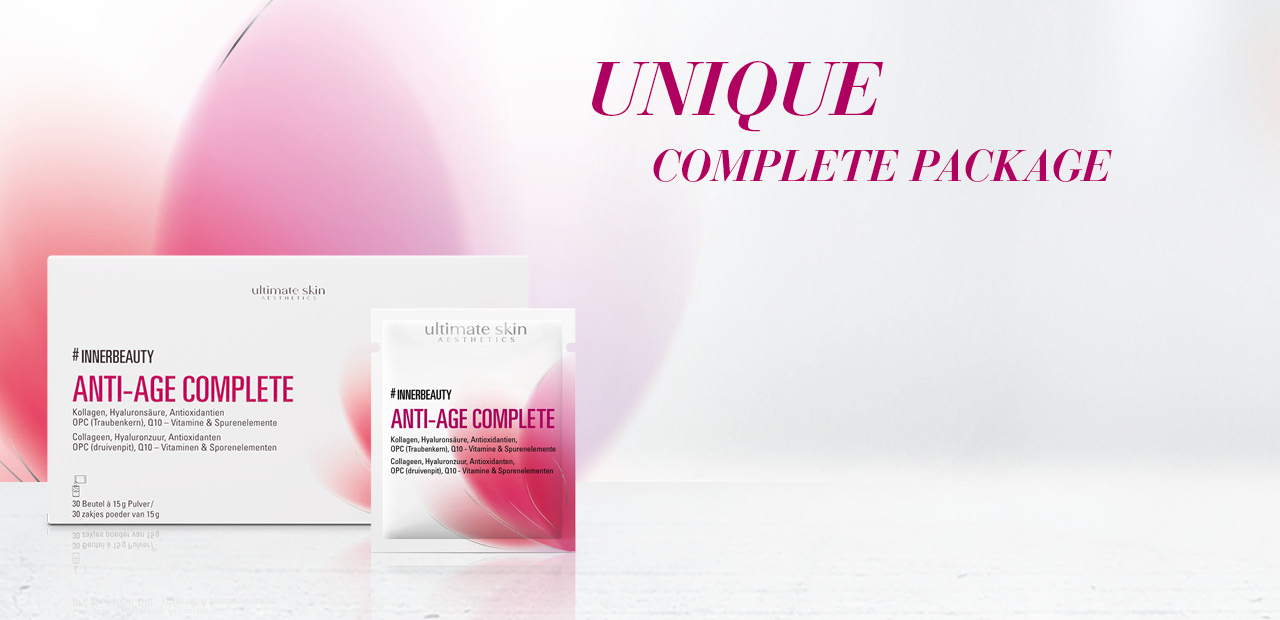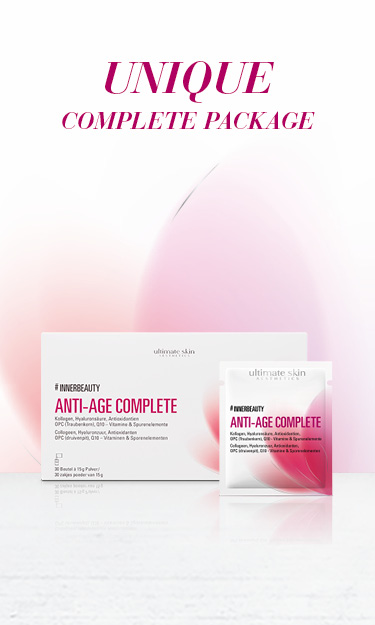 Counteracts the main causes of ageing of the skin
There are three main causes of skin ageing: oxidative stress, weakening of the collagen structure and decreasing moisture in the skin. Anti-Age Complete combines effective anti-ageing ingredients that counteract all three causes in a single daily drink – for beautiful, youthful skin. OPC (grape seed extract) and astaxanthin protect the cells against oxidative stress, while collagen peptides help to regenerate collagen structures – for firm, elastic skin. Anti-Age Complete also uses hyaluronic acid, which is able to absorb 6,000 times its own weight in water and plays a fundamental role in hydration of the skin. Coenzyme Q10 can refine the microstructure of the skin and give it a more even appearance as a result. No added sugar, gluten, lactose or colouring agents. Flavour: Pomegranate.
Contents: 30 daily portions @ 15 g/Net weight: 450 g
DAILY DRINK FOR A MORE YOUTHFUL APPEARANCE
One Anti-Age Complete pack contains 30 sachets and therefore gives you a month's beauty care from the inside. Mix one sachet (15 g) a day with approx. 200 ml water and drink – either at breakfast or lunch.
WHAT IS IN ANTI-AGE COMPLETE?
Pomegranate powder 34%, maltodextrin, collagen peptides 16.6% (from cattle), flavourings, beetroot powder 3%, (acidifier: citric acid), grapeseed extract 1.7% (contains 50% oligomeric proanthocyanidins), acerola powder 0.3%, sodium hyaluronate, astaxanthin, (sweetener: steviol glycocides), L-ascorbic acid, nicotinamide, DL-α-tocopheryl acetate, Coenzyme Q10 0.7%, manganese sulphate, copper sulphate, zinc oxide, riboflavin, L-selenomethionine, D-biotin. No added sugar, gluten, lactose or artificial colouring agents. Contains natural sugar.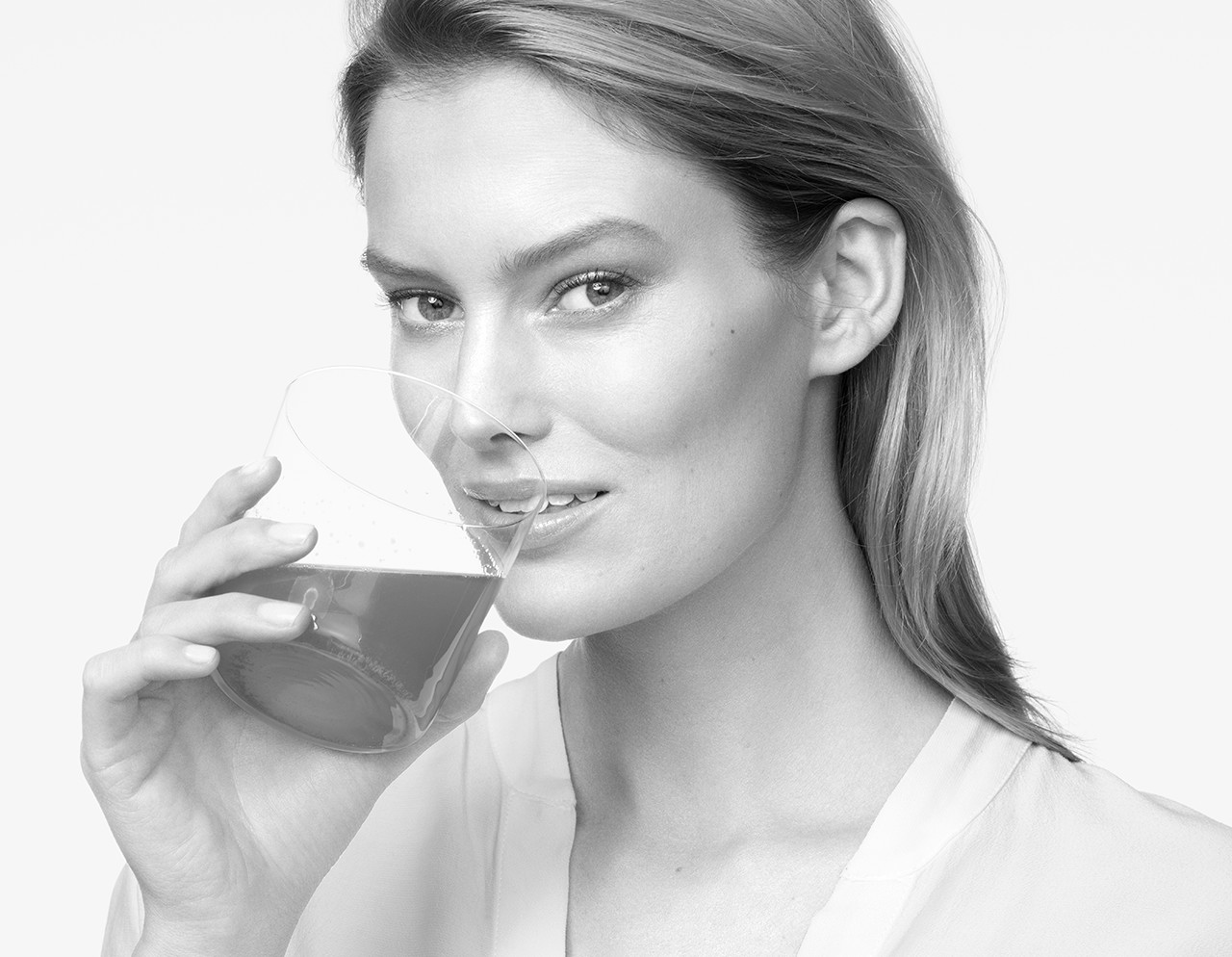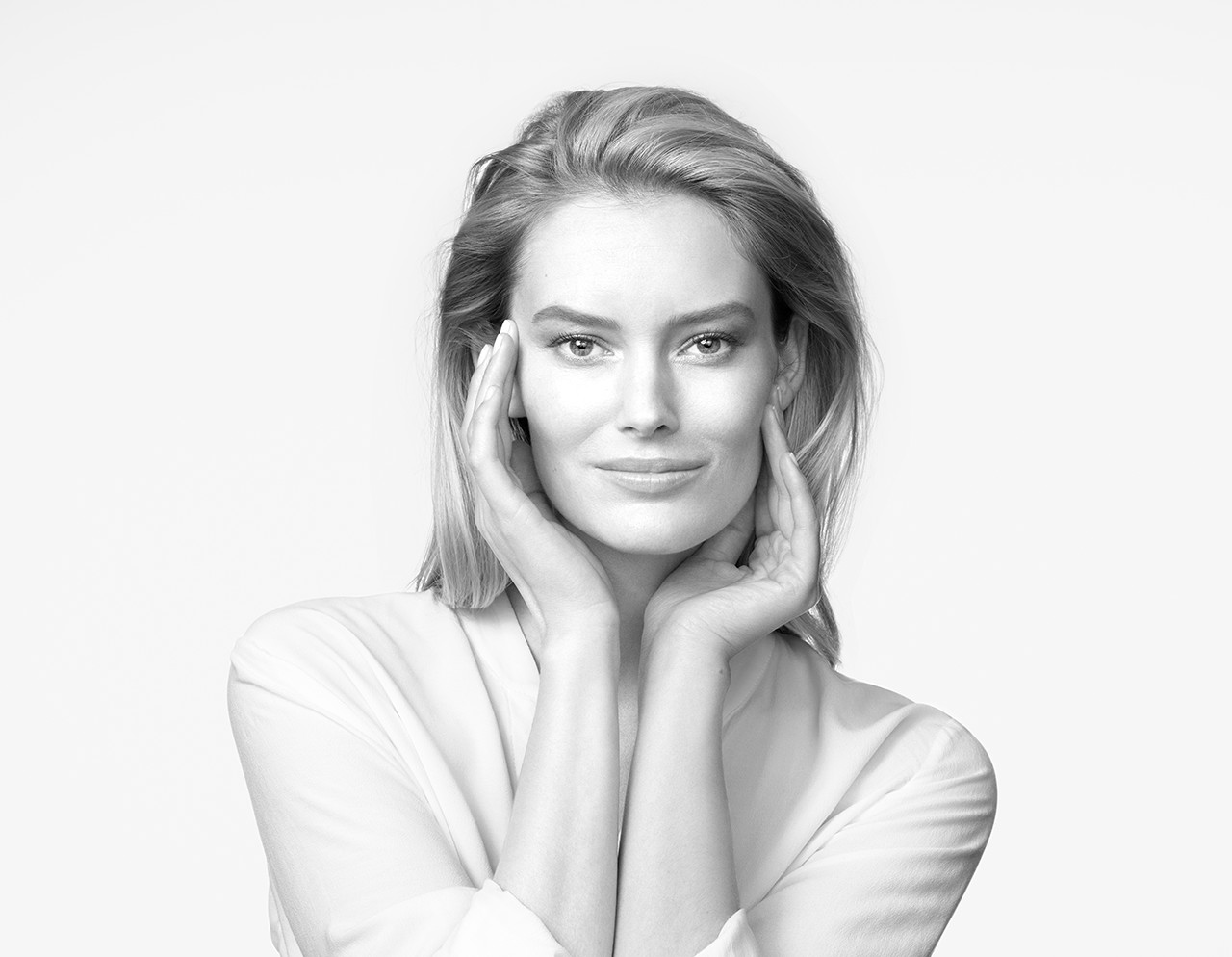 Frequently asked questions
FAQS
When will I see first results?
The first results will become apparent 4 weeks from starting to take the product regularly.
What happens if I stop taking the product?
The effects of the active ingredients are long lasting, i.e. the more youthful appearance of your skin will remain even if you stop taking the product, but it will then be subject to the natural ageing process once again.
How many calories does one serving contain?
1 sachet contains just 54 kcal.
Is the product vegan?
No, because the collagen peptides are of animal origin.
Can I use the product during pregnancy and when breastfeeding?
You should consult your doctor about taking the product during pregnancy and when breastfeeding.