Collagen Bears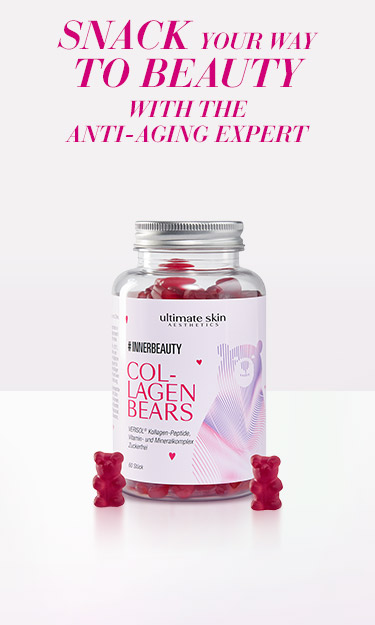 THE ANTI-AGING EXPERT
Becoming more beautiful is now even more fun – with the sweet but sugar-free COLLAGEN BEARS from #INNERBEAUTY!
Collagen is the most abundant protein in the human body. Collagen is produced by the body itself and is found in the lower layers of the skin. However, the body's own production decreases gradually from the age of 25. Collagen gives our skin tone and elasticity.
The Beauty Bears contain 2.5 g collagen peptides as well as biotin, zinc, vitamin C and E in the active ingredient complex. Vitamin C contributes to normal collagen formation for normal skin function. In addition, vitamin C helps protect cells from oxidative stress, while zinc and biotin help maintain normal skin.
The Beauty Bears have a fruity cherry flavour.
Contents: 60 pieces/net weight: 150 g
FOR A BEAUTIFUL, YOUTHFUL APPEARANCE OF THE SKIN
One pack contains 60 Collagen Bears, covering 15 days of beauty care from the inside. Chew four Collagen Bears per day.
WHAT DO THE COLLAGEN BEARS CONTAIN?
Sweetener (maltitol syrup), collagen peptides 25%, gelatine (pig), L-ascorbic acid, acidifier, citric acid, natural cherry flavour with other natural flavours, colouring food (carrot and blackcurrant concentrate) natural flavouring, vegetable oil (coconut, rapeseed oil), sweetener (stevioglycosides), DI-alpha tocopheryl acetate, zinc gluconate, coating agent carnauba wax, D-biotin.