Hyaluronic Beauty Booster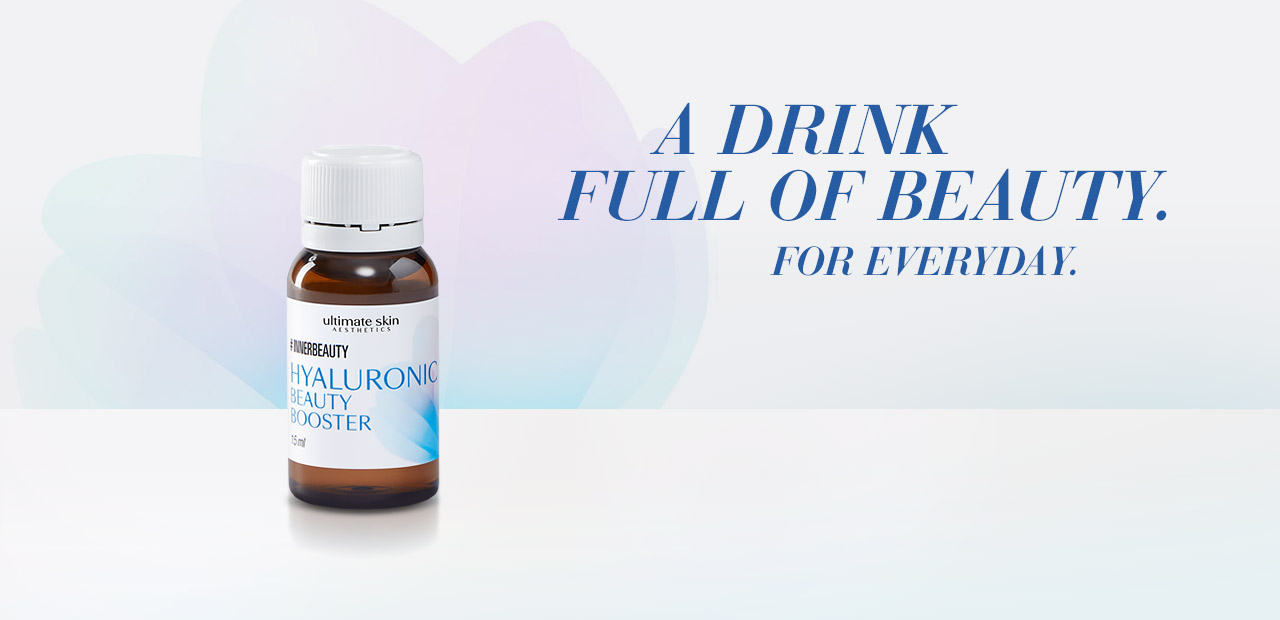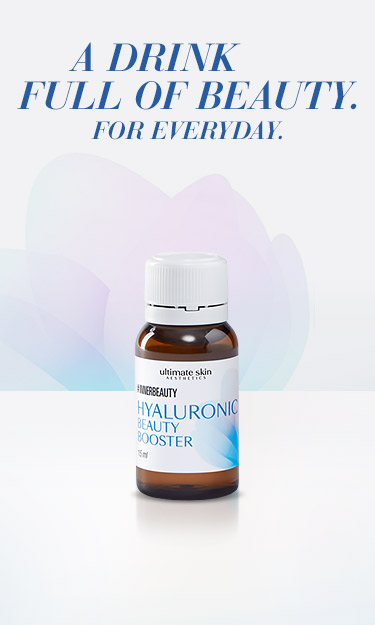 THE ULTIMATE BEAUTY BOOSTER
For a beautiful, radiant and young appearance of the skin, elasticity and moisture are of great importance. In addition to a healthy lifestyle and diet, the body's own substance hyaluronic acid plays an essential role. Hyaluronic acid is a main component of the connective tissue between the skin cells, filling and supporting it.
Our Hyaluronic Beauty Booster by #INNERBEAUTY contains 120mg of high-dose, low-molecular hyaluronic acid, OPC (from grape seed extract) as well as vitamins B2, B6, B7, copper, selenium and zinc. With these vitamins and minerals, skin, hair and nails are supplied with effective nutrients and the connective tissue and immune system are supported.*
The ginger extract gives the beauty drink a refreshing taste.
*Important micronutrients for skin, hair, nails and connective tissue:
– Vitamins B2 helps maintain normal skin and helps protect cells from oxidative stress.
– Vitamins B6 contributes to normal immune system function. Vitamins B7 (biotin) contributes to the maintenance of normal skin and hair.
– Copper, selenium and zinc help protect cells from oxidative stress and contribute to normal immune system function.
– Selenium and zinc contribute to the maintenance of normal hair and nails.
– Zinc also contributes to the maintenance of normal skin.
– Copper contributes to normal skin and hair pigmentation and to the maintenance of normal connective tissue.
YOUR EVERYDAY BEAUTY BOOST
The Hyaluronic Beauty Booster contains 28 ampoule bottles, each containing 15 ml, which covers an entire month of beauty from within. Drink one bottle of Hyaluronic Beauty Booster per day, either with breakfast or lunch. Shake well before use.
Do not exceed the recommended daily intake. Food supplements are not a substitute for a balanced and varied diet and a healthy lifestyle. Keep out of reach of small children.
WHAT DOES HYALURONIC BEAUTY BOOSTER CONTAIN?
Water, pear juice concentrate, plum juice concentrate, stabiliser (glycerine), fructose, lemon juice concentrate, hyaluronic acid 0.8%, acidifier (lactic acid), antioxidants (L-ascorbic acid, sodium L-ascorbate), zinc gluconate, natural flavouring, grape seed extract 0.11%, preservatives (sodium benzoate, potassium sorbate), ginger extract 0.05%, pyridoxine hydrochloride, riboflavin, copper gluconate, D-biotin, sodium selenate.