Dermatest® institute clinical trial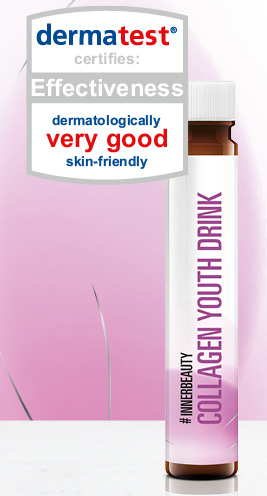 * The impressive effects of the #INNERBEAUTY Collagen Youth Drinks were confirmed by a clinical application study in 2019 under the supervision of the Dermatest® institute. The report prepared by medical and dermatology experts measured general skin compatibility as well as the changes in skin hydration, skin elasticity and depth of individual wrinkles after 12 weeks of taking the #INNERBEAUTY. Collagen Youth Drink. The figures show the highest exhibited measured values (rounded down). Average improvement of skin hydration by 28.6 %, of skin elasticity by 7.66 % and of depth of individual wrinkles by 18.76 %.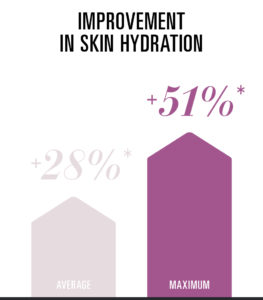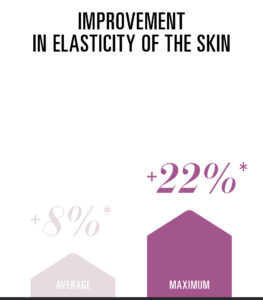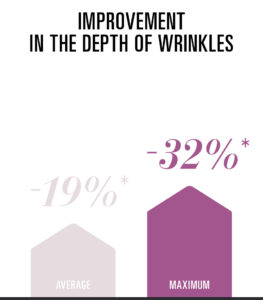 STUDIES ON THE EFFECTIVENESS OF COLLAGEN FOR MORE BEAUTIFUL SKIN:
Skin Pharmacol. Physiol. 2014;27(1):47-55. doi: 10.1159/000351376. Epub 2013 Aug 14.
Oral supplementation of specific collagen peptides has beneficial effects on human skin physiology: a double-blind, placebo-controlled study.
Proksch E, Segger D, Degwert J, Schunck M, Zague V, Oesser S.
Skin Pharmacol Physiol. 2014;27(3):113-9. doi: 10.1159/000355523. Epub 2013 Dec 24.
Oral intake of specific bioactive collagen peptides reduces skin wrinkles and increases dermal matrix synthesis.
Proksch E, Schunck M, Zague V, Segger D, Degwert J, Oesser S.
STUDIES ON THE EFFECTIVENESS OF HYALURONIC ACID FOR MORE BEAUTIFUL SKIN:
Clin. Cosmet. Investig. Dermatol. 2017; 10: 267–273. Published online 2017 Jul 18.
Oral hyaluronan relieves wrinkles: a double-blinded, placebo-controlled study over a 12-week period.
Mariko Oe, Seigo Sakai, Hideto Yoshida, Nao Okado, Haruna Kaneda, Yasunobu Masuda, and Osamu Urushibata
Nutr J. 2014; 13: 70. Published online 2014 Jul 11.
Ingested hyaluronan moisturizes dry skin
Chinatsu Kawada, Takushi Yoshida, Hideto Yoshida, Ryosuke Matsuoka,corresponding author Wakako Sakamoto, Wataru Odanaka, Toshihide Sato, Takeshi Yamasaki, Tomoyuki Kanemitsu, Yasunobu Masuda, and Osamu Urushibata
STUDIES OF THE EFFECT OF BETA-CAROTENE ON THE SKIN IN RELATION TO UV RADIATION:
Dermatoendocrinol. 2012 Jul 1; 4(3): 298–307.
Discovering the link between nutrition and skin aging
Silke K. Schagen, Vasiliki A. Zampeli, Evgenia Makrantonaki and Christos C. Zouboulis
THE EFFECT OF BIOTIN, ZINC AND SELENIUM ON HAIR AND NAILS:
The Health Claims Regulation based on the meta studies of the European Food Safety Authority certifies the positive effect of biotin, zinc and selenium for healthy hair and nails.