Skin-Protect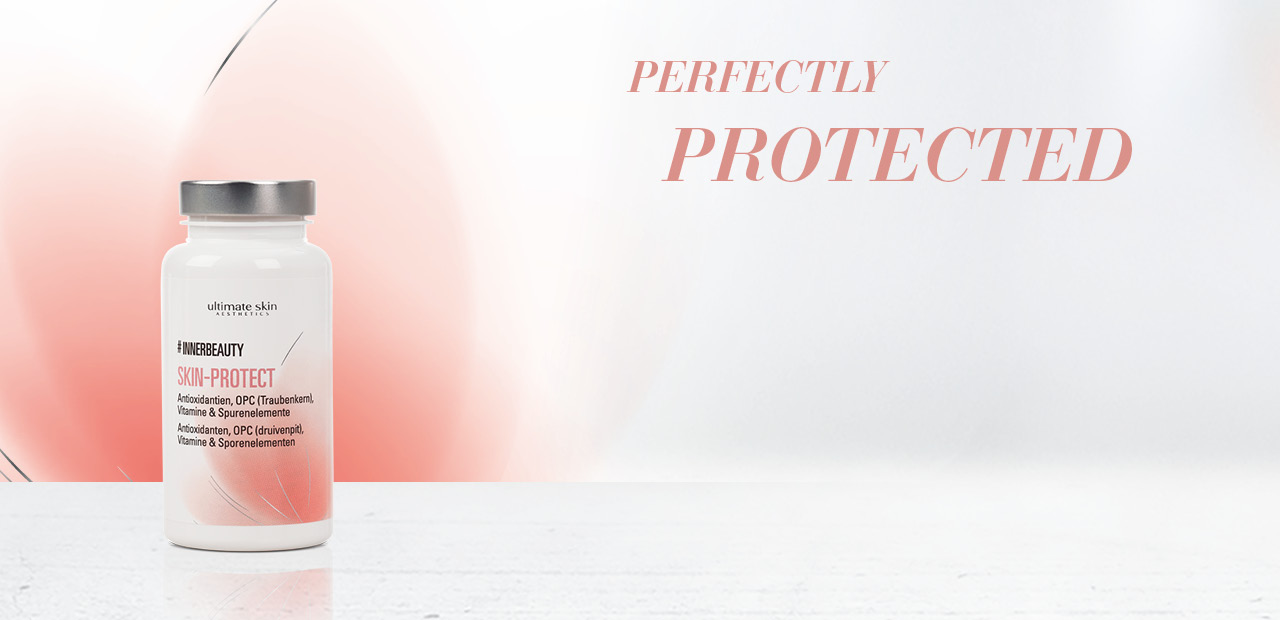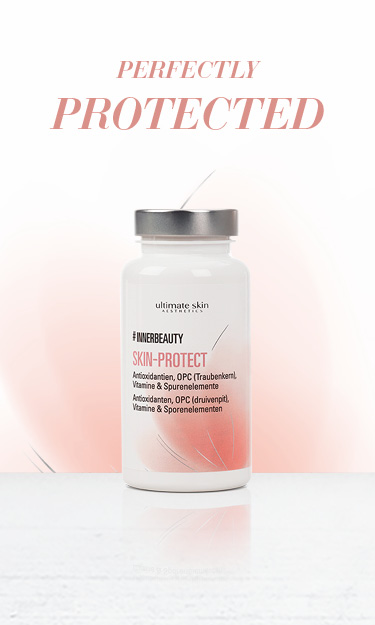 COMBATS FREE RADICALS, REDUCES SKIN DAMAGE
Our skin is exposed to free radicals every day – this creates oxidative stress in our skin. This oxidative stress is one of the main causes of premature ageing. To protect your skin effectively from the inside, too, #INNERBEAUTY has developed Skin-Protect capsules: in addition to vitamin C and E, riboflavin, selenium, zinc, manganese and copper, they contain a very large amount of grapeseed extract with valuable proanthocyanidins (OPC) and the natural carotenoid astaxanthin – the most effective natural antioxidant. These valuable ingredients help the skin to protect itself against oxidative stress in the best possible way – and thus to retain its healthy, radiantly beautiful appearance. Does not contain gluten or lactose and fits in perfectly with a vegan lifestyle.
Contents: 90 capsules/Net weight: 51 g
ACTIVATE YOUR INTERNAL SHIELD EVERY DAY
One pack of Skin-Protect contains 90 capsules and therefore gives you three months of beauty care from the inside out. Take one capsule of Skin-Protect whole every day with plenty of water and with a meal.
WHAT IS IN SKIN-PROTECT?
Grapeseed extract 55.6% (contains 50% oligomeric proanthocyanidins (OPC)), (coating: hydroxypropyl methylcellulose (plant-based capsule shell)), DL-α-tocopheryl acetate, astaxanthin, L-ascorbic acid, L-selenomethionine, zinc oxide, manganate sulphate, copper citrate, riboflavin. Suitable for vegans. Does not contain gluten or lactose.
DIEEMMA
»ALL THE GOOD ANTIOXIDANTS«
Having read a lot about free radicals and antioxidants, I am certain that antioxidants are the key to combatting skin ageing and all kinds of illnesses. It's best to consume as many different antioxidants as possible.
I used to take OPC capsules and then vitamin C and E and zinc separately. Now in this product, I get them all at the same time in a large dose, along with another 5 different antioxidants, even including astaxanthin, which is becoming increasingly well known. The price is great because 1 pack lasts for a quarter of the year. Brilliant.
Customer review of the product Skin Protect
Source: douglas.de
Frequently asked questions
FAQS
When will I see first results?
The first results will become apparent 6–8 weeks from starting to take the product regularly.
What happens if I stop taking the product?
After a certain length of time, your skin will again become more susceptible to attack from free radicals, which can lead to the usual signs of ageing. Long-term use is therefore recommended.
How many calories does one portion contain?
Can I use the product during pregnancy and when breastfeeding?
You should consult your doctor about taking the product during pregnancy and when breastfeeding.